On this partly cloudy day we drove a total of 240 miles from Oban through the Valley of Glencoe, past Loch Ness, through Inverness, the Culloden Battlefield and on to Pitlochry.

Great Britain
Day 14 - Wednesday, 21 May 1997
Valley of Glencoe, Loch Ness, Culloden, Pitlochry
With some reluctance we left Oban. I really want to go back there again.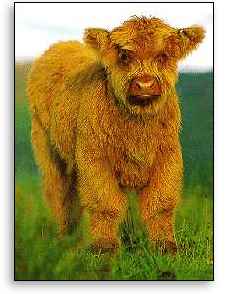 At several places in Scotland we were lucky enough to see long-haired highland cattle. We referred to them as "shags." Unfortunately we didn't get to see a calf like the one to the left. We found him on a postcard. He looks like a stuffed animal complete with a leather nose.
Not very far North of Oban is Glencoe, "the weeping glen," a valley with a sad history of massacre of a whole clan of Scots by the English. Actually, some of the family escaped into the hills. Even the snow was protection for these tough people. The English had come and spent the day and evening, dining and drinking and being entertained by their hosts before they fell upon them to kill them. The Scots code of honor says that you are hospitable even to your enemy if he comes in peace, and that was their undoing. Here we saw some of the most dramatic scenery of the entire trip.
We stopped at Spean Bridge where we saw a memorial monument to the Green Berets who trained in Scotland. The thought that came to me was this: "Because there are evil men in the world it is necessary that good men train themselves for battle to protect what is weak yet precious." We cannot afford to relax and enjoy our comfort, there is always someone who wants to take what we have and make us do their bidding. Freedom must be continually defended.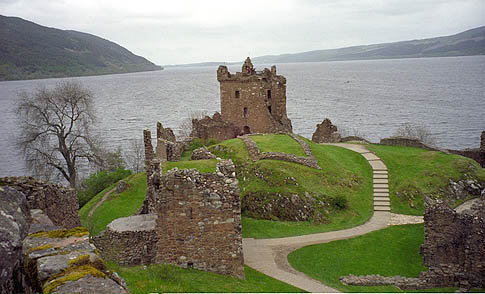 Loch Ness
Urquhart Castle on Loch Ness was our next stop. We didn't see Nessie, but we did see four RAF jet planes practicing above the loch and screaming over the castle as they chased each other through the glen between mountains. Urquhart Castle is the remains of the home of the King of the Picts. (I later learned that my ancestry traces back to these fierce and mysterious people called Picts.) Dramatically ensconced on the rocks at the edge of Loch Ness, it would have been a wonderful place without the warfare. But the warfare demanded that it be built in a way that it could be defended, so it has the moat, the drawbridge, the walls and towers that say "castle" and "stronghold."
St. Columba visited here and reportedly nearly lost one of his monks to a monster who lived in the lake. This is the first recorded report of Nessie, although the legends and fairy tales of the Scots do speak of such a creature.
Culloden Battlefield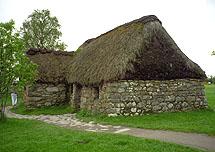 Turning east, we visited Culloden Battlefield, where Bonnie Prince Charlie was so horribly defeated. His men were massacred here. There are markers that indicate clans which died together. Prince Charlie escaped, though not to live happily ever after. He became an alcoholic and suffered depression for the remainder of his life.
It is impossible to visit these places and not see the strong pride and courage of these people. Sometimes this pride and courage moved over into the arena of foolishness. There is a point at which one needs to ask whether fighting is wise, or if there might be another way.
Pitlochry
At Pitlochry, we stayed in Craigroyston House. After taking our bags to our room we found a little place in town where we ate dinner, served by a young Canadian girl, then walked down to the river to look at the fish ladder. Interesting ladder, but no fish! At least it was peaceful. Ater all that war stuff we needed a quiet place. The next morning we would visit a beautiful, quiet and peaceful place - the grounds of Blair Castle.