Great Britain
Day 7 - Wednesday, 14 May 1997
Leaving the Cotswolds, we stop in a little town called Stanton. The church here was the main attraction. Allow me to quote from Rick Steves' Great Britain & Ireland guidebook: "The church betrays a pagan past. Stanton is at the intersection of two lines of prehistoric sights (ley lines, you got me on my knees, ley lines). Churches like Stantons, built upon a pagan holy ground, are dedicated to St. Michael. You'll see his well-worn figure above the door as you enter. Inside, above the capitals in the nave, find the pagan symbols for the sun and the moon."
Recently I mentioned to my friend Dee how I had noticed that in Britain, churches were built on pagan holy grounds. She was astonished and told me she had just that morning read in Deuteronomy 12 how the Lord commanded that such places should be utterly destroyed. In Chapter 13, there is a command concerning cities where idol worship has happened, that they should be destroyed and not built again.
Chipping Campden
We stopped briefly in Chipping Campden to get some pictures of the marvelous thatched-roof homes (below). Then we stopped in Bourton-on-the-Water to buy tickets for the ferry to Ireland. This town yielded several nice pictures, and like everywhere else deserved more time than we had to give. As we tried to leave town we had to wait for several minutes until a truck making a delivery moved on. The road was too narrow for traffic to pass.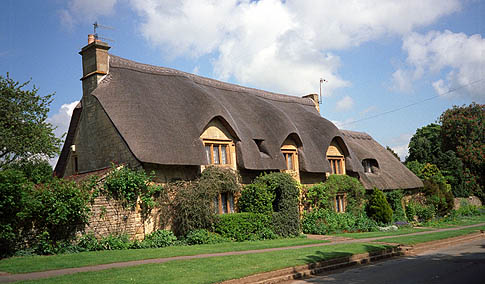 Stratford-on-Avon
In William Shakespeare's home town, we stopped for lunch. We paused long enough to take Jim's picture in front of the house they call Shakespeare's home, but Jim is just certain the house didn't look so nice when William was writing his classic literature.
Warwick Castle
Further up the river Avon, we came to Warwick Castle, where we spent a couple of hours among the Tussaud wax statues that depict life as it might have been in the old days. Warwick is "English history in a nutshell."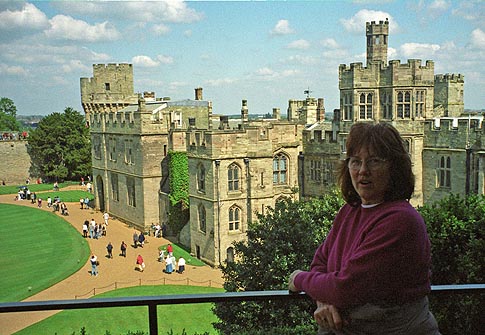 Warwick first became important in history as we know it, in 914 when an Ethelfleda, daughter of the Anglo-Saxon Alfred the Great, ordered an earthen rampart built to protect their position from the invading Danish. In 1260 the wooden buildings began to be replaced by stone structures. In the 14th century, Thoma de Beauchamp (the family who had by this time attained the title of Earl of Warwick) began a massive reconstruction of the castle.
In 1604, the now dilapidated castle was presented by James I to Sir Fulke Greville. The estate remained in the hands of the Grevilles until 1978, when it was sold to the Tussauds group by David Greville.
On To Ireland
This was our first long day of driving, made longer when we didn't reach Birmingham quite as early as we had hoped. We encountered the early part of rush hour, but were on the northern side by 4:30 or 5. However, this much delay caused us to be late enough to lose our reservation at the B&B in Conwy.
When we stopped to eat, Jim called about 6:30 to let them know we were on our way but they said, "Sorry, we've already rented the room to someone else." So we drove on past Conwy and across the island of Angelsey to Holyhead. It added about an hour to the days drive. But we ended up being much closer to the ferry we would be catching the next morning, so it was a good thing. We didn't have to get up quite so early the next day! We found the Boat Yard Hotel right out at the edge of the island, overlooking a rocky beach. It would have been a nice place to stay and explore but we didn't have the time to spare.