Great Britain
Day 4 - Sunday, 11 May 1997
We spent the day touring (Jim's first day driving on the "wrong side" of the road) through Avebury (pouring rain, so we have no pictures of the stone circle that goes all around the town) then to Stonehenge, where the sun came out and we got some pretty good pictures. It was very windy and cold there.
Stonehenge
We drove on to Glastonbury where it was pouring rain again, so we didn't linger to look for the well that holds the Holy Grail - allegedly the chalice used by Christ at the Last Supper. Joseph of Arimathea is reputed to have brought the chalice and Christianity to this city early in the first century A.D.
We drove on to Wells were we found the cathedral (pictured below) just as the sun came out. What a place! So huge, so ornate, so old! We took lots of pictures and wandered around in awe.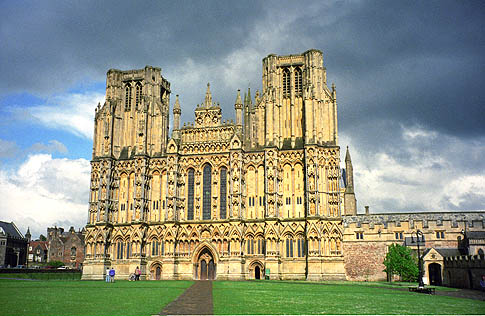 Wells Cathedral
After we arrived safely back in Bath, I tried to rub the kinks out of Jim's arms and legs. Learning to driving on the "wrong side" of the road is VERY stressful. The worst part was making right turns while remembering to stay on the left side of the road. You don't realized how ingrained some habits are until you are forced to change them.