Great Britain
Day 8 - Thursday, 15 May 1997
Our ferry departed at 8:55 a.m., so we were up early and waiting for breakfast when the cook arrived breathless. She had overslept. She made the now familiar English breakfast and served us as well. A sleepy cat named Smidge suddenly raised his head from a chair at another table, stretched and strolled out toward the bar. We were surprised and delighted. It seems we run into nice little cats everywhere.
We also had a nice chat with another hotel guest. He worked at the RAF base on Anglesey Island, and had been to the U.S. To be more accurate, he had been to Disney World in Orlando. We shared stories of what it was like to learn to drive on the "wrong side" of the road.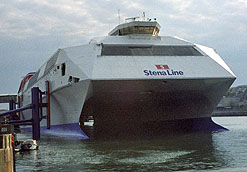 The big new Stena Line high speed ferry to Ireland from Holyhead has been operating for less than a year. The regular ferry has been there for some time, but takes about twice as long to cross the Irish Sea to Dun Laoghaire. (Pronounced dun lorry, like sorry) The boat can carry about 1500 people plus 365 cars (less if some vehicles are coaches and lorries). Did I tell you that trucks are called lorries in Great Britain? Coaches are inter-city buses. Buses are for local service. Stena Lines advertises that the trip takes 99 minutes but both crossings of the Irish Sea took about and hour and 50 minutes for our round trip.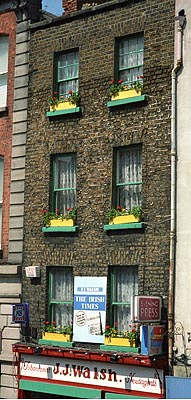 Disappointing Dublin
In Dun Laoghaire we boarded a train for Dublin. In Dublin we found a city tour bus and rode around the city, had lunch in a little pub, and boarded the train again back to the ferry. Our stay in Ireland was obviously too short, but it gave us a view of a tired and depressed looking city. It seemed to be lacking in pride and spirit. We want to see the real Ireland next time, the green country, and the dancing singing Irish people who live there.
One notable incident occurred today. I accidentally dropped my glasses while we were waiting for the train and one lens popped out and went flying down to the tracks. I jumped down from the platform to rescue it. A gentleman helped Jim give me a hand back up. A lovely little older lady had reached for me at first, but I didn't think she would be strong enough to pull me up. She and I chatted some then. She turned out to be Welsh, and lives in Holyhead. She told me that Irish and Welsh people are very honest, will tell you the truth, and love to talk. She said that if I have Irish blood, I probably have Welsh. I wonder if it is just in my blood then, the love I have for truth and honesty? We probably are much more genetically driven than we ever would have thought.
On to Ruthin
When the ferry arrived back in Holyhead, we retrieved our car and drove to Ruthin. We had trouble finding our B&B, because they had no sign identifying it as a B&B. When we remarked about that to Mr. Ranson, he told us that they have plenty of people without a sign.