Great Britain
Day 12 - Monday, 19 May 1997
Breakfast on Monday in the Lake District was with another group of Rick Steves' groupies. We had lots of fun talking with them, but then we were off to Scotland.
Castlerigg Stone Circle
After leaving Stoneycroft and passing through Keswick, we made another attempt to find Castlerigg stone circle. We missed the first place to turn and ended up coming in the long way, but we did find it. The stones at Castlerigg are much smaller than at Stonehenge and have no crossing stones on top. According to our guide book the circle is located between two mountain tops. However, I could not identify which were the two key mountains. We seemed surrounded by them.
Castlerigg Stone Circle near Keswick
A wrong turn in Glasgow
Driving on toward Oban, we missed an important turn in Glasgow and added an hour to the drive time. We stopped for a late lunch by the shores of Loch Lomond, eating sandwiches and stuff we had purchased when we stopped for petrol earlier in the day. We made another stop by Loch Fyne, where I picked up some pebbles as souvenirs of my homeland. Someone had made a feast here of mussels plucked from the loch (lake is the English word).
We stopped briefly in Inveraray where they wanted £8 ($13) for a tour of an old jailhouse. We passed on the jailhouse and strolled through the streets, then drove on to Oban. We found our B&B (The Barriemore) just in time to watch the ferry come in from the island of Mull. At that time we didn't know that we would be on the ferry the next evening.
We ate dinner at The Studio, a Rick Steves recommended restaurant which was surprisingly expensive. Rick's book says a full Scottish meal cost about £11 there but we found £15 more like it. The total bill came to about $50, by far our most expensive meal during the trip. It was also our best meal during the trip . We had the misfortune of having a single male traveler from New York seated beside us, and he wanted to chat. Jim very quickly decided he wanted no part of him, and I was trapped in the conversation. We were happy to finally pay our bill and leave.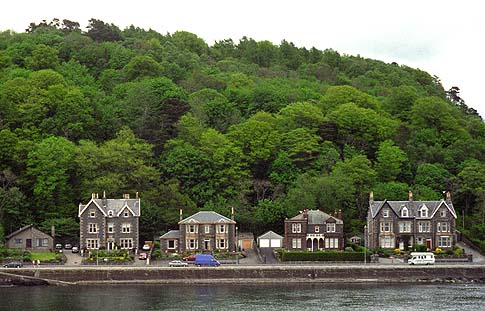 Our B&B host, Jim McLean, was a charming man and a very interesting conversationalist, telling many wonderful things about the history and politics of Scotland, and its place in world affairs. He described Mull and Iona in such a way that we decided to stay an extra day and take the ferry over. It meant we had to call our next place and cancel. The lady there so intimidated Jim that I had to call and tell her we just simply wouldn't be there. She complained, but I gave her no choice, and she finally said, "Oh well, never mind." So I guess this made us even in the B&B reservation game. One canceled us, and we canceled one. It was worth the twinges of guilt we felt, I think. We had a wonderful day.