The first order of business today was a bus ride across Aero to the ferry that would take us to the island of Funen where we stopped at the Hans Christian Anderson Museum in Odense. The HCA museum has an immense quantity of material and the detailed items available were too much to take in. We drifted through, quite in astonishment at the collections of one man's life.
The statue of Hans Christian Anderson, left, is in Copenhagen, behind city hall and across the street from Tivoli.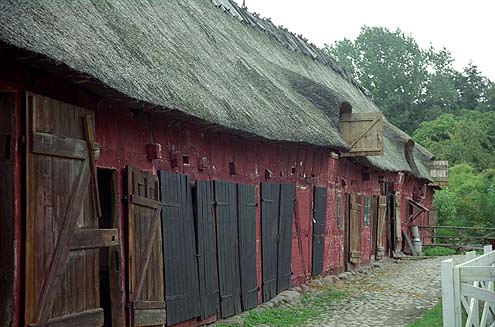 After lunch we toured the folk museum, enjoying a glimpse of yesteryear in Denmark. The old barn with a thatched roof pictured here was one of several farm buildings on display.
By the time we bought a few trinkets in the gift shop and got back on the bus, the rain had begun in earnest. A few people got quite wet getting back to the bus.
From Funen we drove back across a beautiful bridge to Copenhagen on the island of Zealand. Next we crossed the recently opened Oresund Bridge-Tunnel to Malmo, Sweden. The trip across the bridge to Malmo was lovely. We had dinner in Malmo while we waited for our night train to Stockholm. What a great city! Why can't we stay in Malmo for a few days, or at least one?
Finally we boarded a train and slept our way to Stockholm.