Greece
Day 8 - Thursday, 23 April 1998
We wandered around the Acropolis and the adjacent Agora, then walked through the Platka on the way back to our hotel.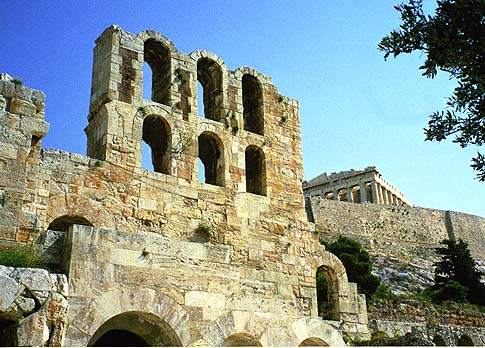 The top of the Parthenon is just visible beyond the facade of the Odeion of Herodes Atticus. Construction of the Odeion was started about 601 A.D. It was a covered arena for cultural occasions built by Herodes Atticus in memory of his wife.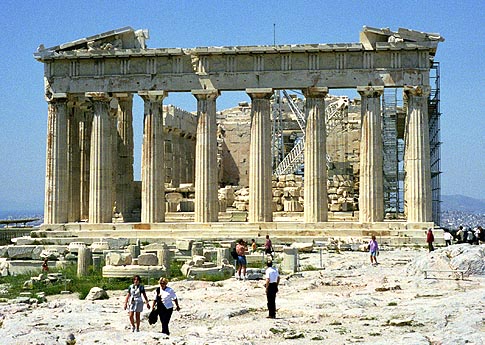 The Parthenon was built in the mid 5th century B.C. The building we see today was the third temple built here. Each was devoted to the worship of Athena Parthenos.
The Turks used the Parthenon as a powder magazine when the Venetians sieged the Acropolis in 1687. One of the Venetian bombs fell on the Parthenon and caused a tremendous explosion that destroyed a great part of the monument which had been preserved in a good condition until then.
The disaster was completed in the beginning of the 19th century, when the British ambassador in Constantinople, Lord Elgin, stole the greatest part of the sculptural decoration of the monument (frieze, metopes, pediments), transferred them to England and sold them to the British Museum, where they are still exhibited.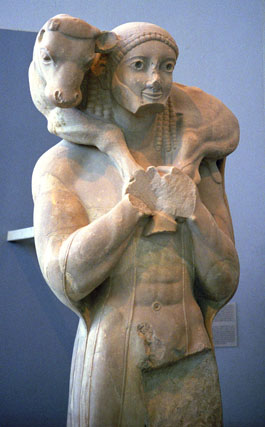 There is a very impressive museum at the Acropolis. Only items found at the site are exhibited here.
At left the Moschophoros or Calf-bearer is a marble statue from about 570 B.C.
I forgot to turn off the flash when I took my first picture of this statue. A lady guard nearby scolded me for using flash. I just nodded, turned off the flash and took the picture you see here.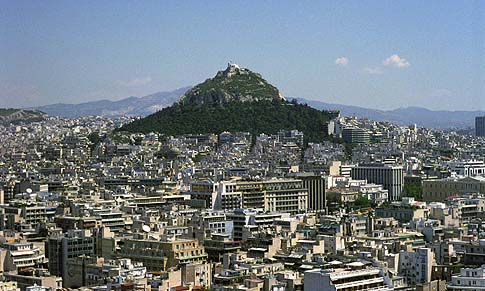 The Lycabettus Hill (Hill of the Wolves) as seen from the Acropolis. Long ago, when the hill was part of the remote countryside, wolves preyed on the sheep that grazed here.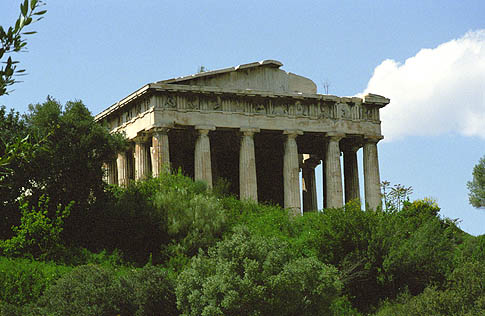 Temple of Hephaistos in the Agora. Some call it the best preserved Greek temple in the world today. It was built in 449 B.C. All of its columns and pediments are intact, and most of its original roof still remains.
We had been here only a few minutes when a guard told us the Agora was closing for the day. He marked our tickets so we could return the next day but we didn't. The tickets were 1,200 drachmas or about $4.