From Patmos back to Samos

Greece
Day 5 - Monday, 20 April 1998
Monday was a lazy, restful day, with beautiful bright sunshine. With our heavy drapes closed, we didn't see a ray of it before 8 a.m. Before catching a late afternoon hydrofoil back to Samos, we explored the village and its shops, wandered among the houses and enjoyed coffee frappe in an open-air restaurant.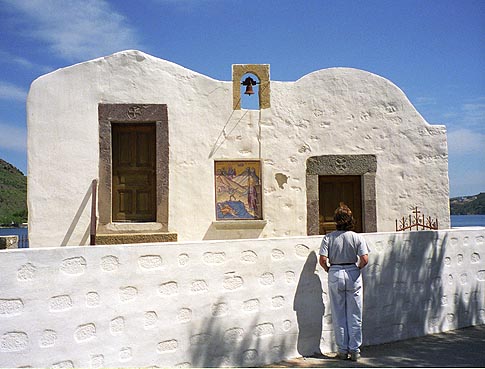 A little church on the island of Patmos.
At the northern end of the island, we observed steam issuing steadily from a hillside. None of our guidebooks mention it, and it seems to be just another taken-for-granted wonder of this part of the world. Mineral rich hot springs, or steam and gas issuing from the ground (sometimes poisonous, sometimes intoxicating), are just everyday things to the Turks and the Greeks. It is part of their world.
Beneath this beautiful surface restless things are happening. Earthquakes and volcanic activity are not necessarily just things of the past. But it may be that the steam we see here is the dying breath of an old and deep vent into the hot interior of earth.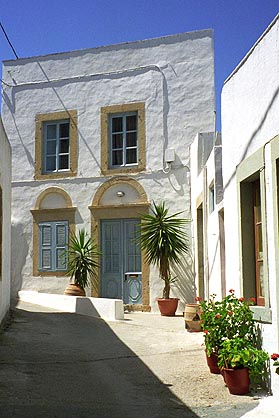 Lines, shadows, colors and textures on Patmos.