Greece
Day 4 - Sunday, 19 April 1998
We rode the bus up to the monastery, and wandered with other tourists among its walls and chambers. The old church is very dark, and very small. The treasury was the only place with an entrance fee. Inside were old garments, old books, and old gold service items used by the Orthodox Church. There is reported to be a large library here, containing a wonderful treasury of old books from early Christian times.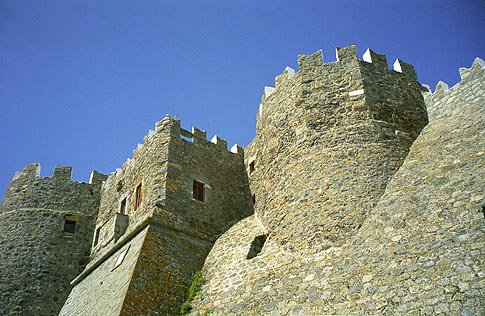 The heavy, stone outer walls of St John's Monastery.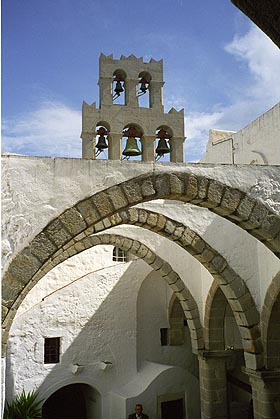 One of the cliche views inside the monastery.
Halfway down the hillside, we stopped at the grotto that is alleged to be the location where John received the Revelation. It has been made into a chapel for Mary and thus held little of the stark and intense feeling that I'd expected. One had to work at trying to see what it looked like before the chapel was built around it, a natural cave in the hillside, giving a little shelter from sun and wind and winter rains.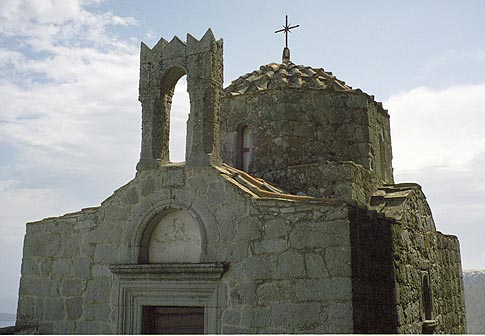 The Chapel of the Apostles at the Monastery of Apostle John the Theologian.

Looking down on the town of Skala from the monastery.
Today, no one knows for sure how long John was on this island in exile, or how many other people lived here at the same time. But recorded in old books are stories about his disciple, Prohorus, who wrote down as John related to him, the Vision of the Revelation of Jesus Christ. It is told that Prohorus also wrote a book about John, which may actually be in the library at the monastery. How I would love to read it!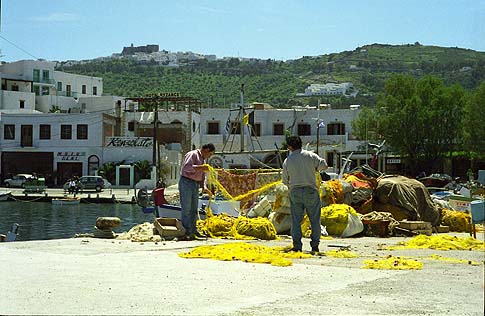 A couple of fishermen untangle their nets. The dark building on the top of the hill is Saint John's Monastery surrounded by the white buildings of Hora.