Switzerland - Day 12, Sunday, June 11, 2000
Today we were off to Trummelbach Falls just up the valley from Lauterbrunnen.
Carolyn went to the nearby Catholic Kirche for the 9:30 AM mass. We left the apartment just before 11:30 AM for the walk up the hill to the bahnhof to catch the 12:05 train to Interlaken Ost.
While waiting for the train I made reservations for our ride Wednesday on the famous Glacier Express train from Brig to Chur. More about that later, probably on Tuesday.
Before we left I called a hotel in Chur to make reservations for Wednesday night. We have to leave the apartment about 7:30 Wednesday morning. The next guests will arrive a little after 1 PM. But I digress.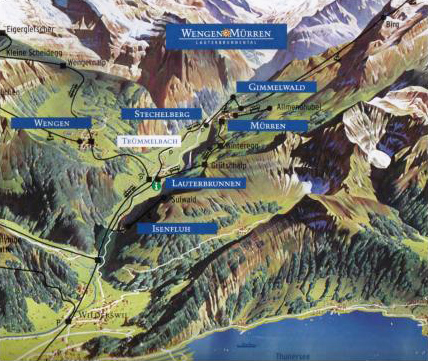 An overview of the Lauterbrunnen Valley.
At Interlaken Ost we switched to a train headed for Lauterbrunnen. There we went in search of a place to eat lunch and settled on the restaurant at the Hotel Oberland. Geri had rosti with mushrooms chopped ham & Swiss (ha ha) cheese, Carolyn had bratwurst with onion, gravy and rosti (14 Sfr or $8.40), and Jim had a pork steak with rosti. Rosti is a yummy Swiss potato dish much like hash browns.
Our waiter spoke very good English so Geri asked him where he learned it. He said "here," meaning Switzerland I think. Then we asked how many languages he spoke and he said "six." He is from Portugal and speaks Portuguese, German, French, Spanish, English, and Italian. Oh how I envy him. When he presented the bill he apologized for a charge for pizza that we had not ordered or eaten so he deducted 3 francs. I then pointed out another item so he deducted the price of that item. Later I noticed that the price of the pizza was actually 13 francs so he had taken us for 10 francs or about $6.00. At the time I wondered why he didn't just redo the bill but didn't demand that he do so. Next time I'll try to be smarter.
After lunch we walked down to the bus station for a ride to Trummelbach falls.
It is impossible to do justice to Trummelbach Falls with photos. That didn't keep us from trying. There is no way to capture the noise and rumble of the water or the dampness in the air. You gotta be there.
Someone came up with the following description and we now see the same words everywhere the falls are described. "Ten glacier-waterfalls inside the mountain made accessible by tunnel-lift and illuminated. The Trummelbach alone drains the mighty glacier defiles of Eiger (13,025 feet), Monk (13,448 feet) and Jungfrau (13,642 feet) and carries 20,200 tons of boulder detritus per year. Its drainage area is 24 square km (9.25 square miles); half of it covered by snow and glaciers. Up to 20,000 liters of water by second. The only glacier-waterfalls in Europe inside the mountain and still accessible."
For those who don't remember your geography lessons Eiger, Monk and Jungfrau are three Swiss mountain peaks that sit side by side.
Geri and Carolyn are huddled together against the heavy mist from the roaring water. This picture had to be taken quickly to keep from getting people and camera very wet.
After walking up and down MANY steps we caught the bus headed back to the train station. We jumped off the bus early, right across the street from a pastry shop. After purchasing a couple of items there we headed for the train station at a rapid pace. We arrived at the station in time to see the train pull out.
We got on the next train 1/2 hour later and arrived back at the apartment about 6:15. On the train from Interlaken to Spiez a "balloon man" came through our car. His face was painted white, like a clown. There were three kids in the seats behind us. He stopped there to make balloon thingys for all three kids. He didn't ask for money. We don't know why he was there or how he is funded.
When he noticed Geri's San Francisco shirt he said, "You're wearing a picture of my hometown."
While the balloon man was entertaining us the rain was coming down quite hard. It was not raining by the time we pulled into the Spiez station so we were able to walk down the hill to the apartment without getting wet. By the way, we did get quite damp while viewing the above mentioned waterfalls.
Shortly after we arrived at the apartment it started raining. We have been very lucky weather wise speaking. It has rained for any period of time on only one day. That was the day we spent in Bern so it didn't bother us much. Just about all of Bern's wide sidewalks have arcades over them. One could do a lot of walking when the rain was pouring without getting wet.