Alaska
Day 8 - Thursday, 13 September 2001
Cruising along the mainland of British Columbia, we slip past quiet coves that once supported Indian villages as well as logging and fishing operations. Abandoned with time, the shores have returned to the wilderness and now teem with marine life and seabirds feeding in the nutrient rich waters.


The clouds hung low in the morning.
Cruising down Chatham Sound we entered Canadian waters about midnight Wednesday (Alaska Time) which immediately became 1 AM Thursday (Pacific Time).
Prince Rupert was off our port side about 1:30 AM. By 3 AM we were abeam Porcher Island. About 4 AM we entered Greenville Channel between Pitt Island and the mainland.
By the time we had eaten breakfast and made our way up on deck to start taking pictures it was just before 8 AM and we were about to enter the channel between Princess Royal Island and the BC mainland.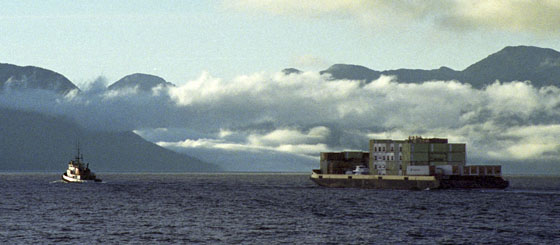 This barge is probably headed to one of the ports on the Inside Passage reachable only by sea or air.
After breakfast we were up on deck to enjoy the scenery. Low clouds added to the dramatic scenery as we continued south. About 9:45 we saw our last Humpback whale. By the end of today we were hoping the cruise could go on forever.
Our progress as captured by Jim's Garmin GPS III+:
1:30 AM Prince Rupert off our port side
4:00 AM North end of Pitt Island
8:22 AM Southwest corner of Gribbell Island
9:02 AM Southeast corner of Gribbell Island
10:02 AM Butedale on Princess Royal Island
1:15 PM Klemtu on Swindle Island
4:15 PM Campbell Island
4:30 PM Waglista on Campbell Island
5:30 PM Turning S down E side of Hunter Is
7:00 PM Top of Calvert Island
8:30 PM Bottom of Calvert Island
11:00 PM Queen Charlotte Strait off the north end of Vancouver Island