Alaska
Day 1 - Thursday, 6 September
As we left the house at 7:15 AM with an outside temp of 56F we couldn't help but wonder if this would be the warmest temperature we would see until our return.
We flew from Sacramento to Seattle on Alaska Airlines flight 369 departing SMF at 9:06 AM and arriving in Seattle about 11:00, about 10 minutes late. Seattle was overcast with a temp of 55F. We deplaned at gate C11 and had to walk very quickly to gate D4 to catch our Alaska Airlines flight 75 to Juneau. The plane pushed back a few minutes early and soon took off on the 839 mile flight to Juneau.
During the flight we adjusted our watches back one hour from Pacific Daylight time to Alaska Daylight time. Touch down in Juneau was a few minutes late at 1:08 PM.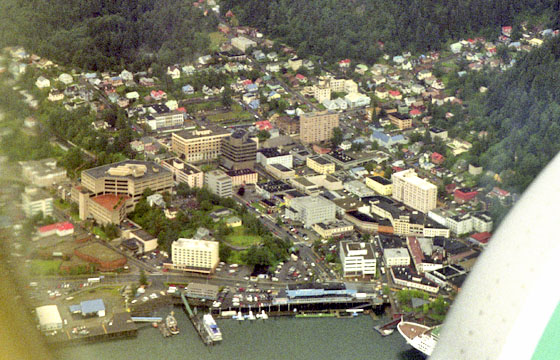 Downtown Juneau viewed from the plane as we were landing.
A Cruise West person was waiting for 12 people from our flight. Only 10 showed up. The other two would arrive in a couple of hours on the next flight. We were the only people not headed for a cruise on the Spirit of Alaska that would depart at 6 PM.
A light rain was falling as we walked a short distance from the terminal to the Cruise West bus that would take us to the hotel.
As soon as we arrived at the hotel we transferred to another CruiseWest bus for the trip to the Mendenhall Glacier. Before arriving at the Glacier we stopped at the Chapel by the Lake on the shore of Auke Lake.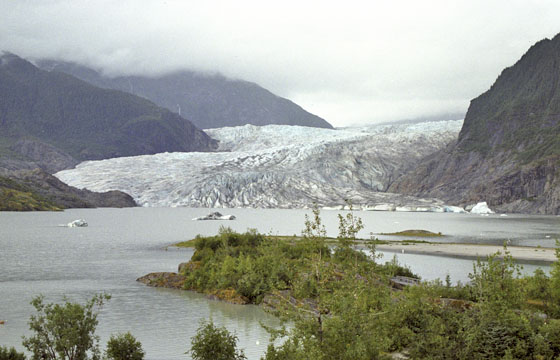 Mendenhall Glacier just north of Juneau.
Arriving back at the hotel we were delighted to learn that our room faced the harbor and offered a great view of the large cruise ships as they arrived and departed.
Websites:
State of Alaska
Chapel by the Lake