Eastern Turkey: Day 13 - Saturday, 1 July 2000
Although I was feeling better, I did skip breakfast and left the room only when it was time to board the bus. It seemed wise to let my digestive tract be empty of anything for strange bacteria to feed upon. My theory was that they would die of starvation long before I do.
We drove to Tarsus, where we saw the well of St. Paul with a black tent behind it.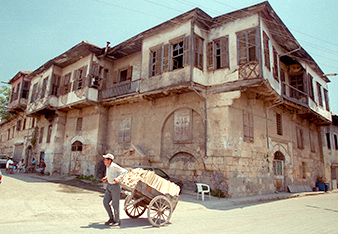 This man with a cart full of wood in front of the old Ottoman style house was much more picturesque than St. Paul's well.
We ate a late lunch beside the Mediterranean, wonderful fresh fish fried crisp, with watermelon for dessert. I allowed myself a plate of watermelon, and it did not cause a problem.
A couple of tour members took advantage of the opportunity to swim in the Mediterranean, while others worried about whether the water was clean enough, i.e., safe.
Our next stop was the Adana airport, where we boarded a Turkish Airlines 737 for the flight back to Istanbul.
In Istanbul, Mimi's husband and son awaited her so we had an impromptu party on the rooftop patio of our hotel. It is amazing what Meli can pull together with half an hour's notice!