May 1997

Using a guidebook by Rick Steves and a Ford Escort from Hertz we spent 21 days driving 1853 miles around Great Britain. We covered additional miles via buses, trains and a boat.
Our trip is chronicled here in words (mostly Geri's) and pictures (mostly Jim's). The pictures were selected from our photo album of the trip which contains about 180 pictures. These were selected from the approximately 500 pictures that we took on the trip.
We have put together a 35 page book version of what you see here with many additional photos.
The map below is from Rick's guidebook. Click in a red box to go directly to the page about that area. Or, you can start at Day 1 and then progress through the days by clicking Next Day at the bottom of each page.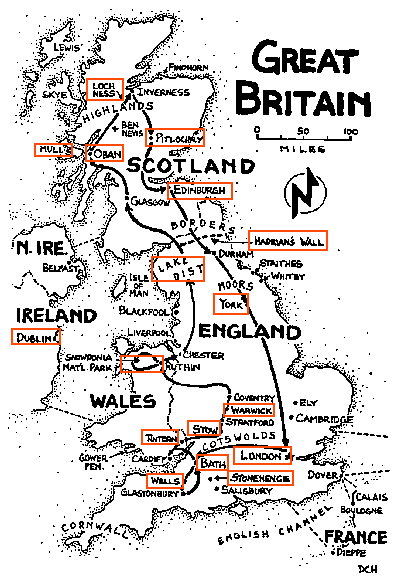 Questions and/or comments may be directed to us at feedback@squiresweb.com. If you have your browser setup to send email just click here.